SPRING 2023
Hours subject to change. Rain may affect availability.
FYI: check Instagram for announcements

Good dirt takes time.
Thank you for your patience! We are still moving slower than usual due to pandemic fatigue and exhaustion living under hetero-patriarchal capitalism. Please review the instructions below, fill out the order request form & we'll get back to you within 1-2 weeks (i usually review orders on Mondays).

Pickup "drop-in" (no appt):
Saturdays 9am-1pm (last day open: May 26)
Pickup appointments:
Mon + Tue + Thu 9am-noon
need at least 1 week to correspond
Make an appt here
Deliveries by appointment
**Due to a family emergency, we have ended spring deliveries. We will begin again in late summer.**

Address: 8301 Olive St.
New Orleans, LA 70118
Schmelly's is an organics recycling company. We collect food scraps from New Orleans' restaurants, hotels, grocery stores, juice bars and coffee shops, and then compost these scraps into an organic soil conditioner for growers to enhance their soil microbiology. Our product is composted & cured for 8-12 months to create a nutrient-dense plant food good for everything including flowers, vegetable gardens, and production farms.
---
Quick Links:
Catalog of Products:
Schmelly Services:
How to Order with Schmelly's:
1. PLEASE NOTE: We do not have operators standing by. We are a very small company. It may take a week or more to respond to your order request. We will let you know our availability ASAP.
2. Determine the cubic volume of what you need and if you can self pick-up or if you need delivery. Use our handy Soil Ordering Calculator below to determine volume & appropriate transportation of soil & mulch: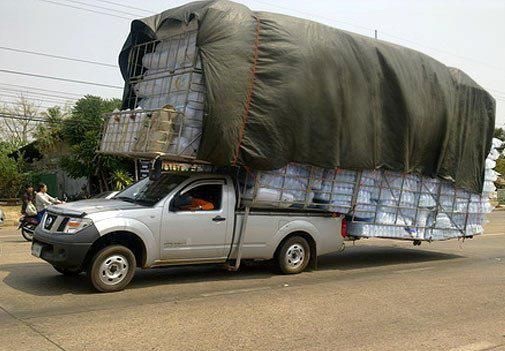 link: SOIL ORDERING CALCULATOR! + Volume & Transportation Guide
Here's a simple guide with a soil volume calculator, weight references, & tips on how to carry your soil home.
3. Check out our product and services catalog below for quantities and prices. Make a list of what you need and then double check your volume measurements.
4. Click the button below when you're ready to order.
After submitting your request, we'll be in touch to discuss prices & payment details. After we finalize your order, we'll email you an invoice; you can pay your invoice before you receive your goods, or pay upon pickup/delivery. Payment options are cash, ACH/e-check (online bank payment), credit card, and good ole fashioned check. For information on the security of our payments & banking systems, visit Intuit/QuickBooks and Gulf Coast Bank.
compost compost compost compost
---
Schmelly's Prices & Products:
WE LIKE BULK! Let's eliminate plastic trash! We offer bagged products upon request using recycled bags.
Picking up? PLEASE BRING YOUR OWN CONTAINERS, OR USE A TRUCK. We will prepare the order before you arrive and will fill your containers when you get to our site. For open-bed picukup trucks, we'll load ya up with our machine. If you are wondering how much soil your car or truck will hold, read this handy volume guide.
Pick-up orders of 1/2 cu.yard (14 cu.feet) or more: we encourage you to bring a pickup truck so we can load with our machine. Bulk price for truck loads is cheaper because it takes much less labor.
Prices subject to change.
Acronym key: "cu.yd" means Cubic Yard, "cu.ft" means Cubic Foot. For more information on measurements, visit our volume guide.
---
Supernatural Garden Soil (1/2 & 1/2 mix)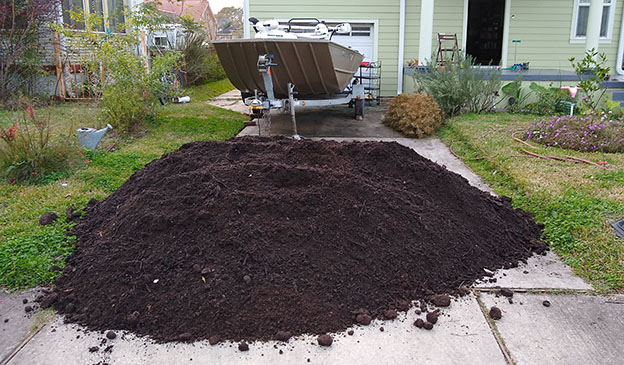 BULK PRICE:
Per cubic foot = $7
Half-truck load (0.5 cu.yd / 14 cu.ft) = $55
1-4 cubic yards = $80 per cu.yd
5-10+ cubic yards = $75 per cu.yd
Large bagged orders available upon request.
Use this to blended soil to fill up your vegetable raised beds, plant out a container garden, or bulk up your farm rows. We mix our homemade compost with a basic landscaping soil blend (composted horse manure, coffee grounds, pine shavings, sand). It's perfect for vegetable gardens, flower beds, and anywhere you need a high quality soil mix.
---
DYN-O-MITE! Unscreened Compost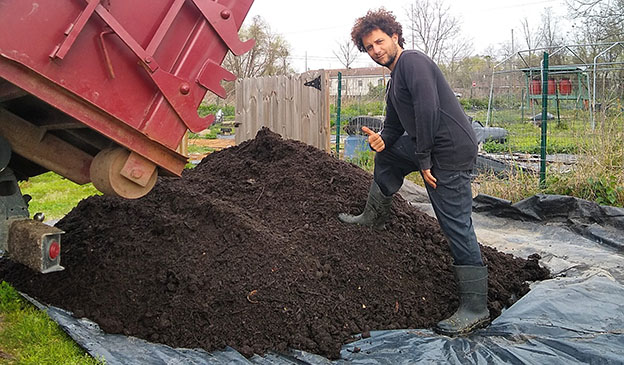 BULK PRICE:
Per cubic foot = $5
Half-truck load (0.5 cu.yd/14cu.ft) = $45
1-4 cubic yards = $65 per cu.yd
5-10+ cubic yards = $60 per cu.yd
Large bagged orders available upon request.
KAPOW!! This product will make your plants blow up! Unscreened, unfiltered, 1-year old fully cured compost. This is our signature product with no additional processing after curing so we can keep the price low. PLEASE NOTE! this product has not been screened or sifted and contains composted wood chips, oyster shells, twigs, bone material, AND occasional straws, plastics & produce stickers from the food service industry where we source our compost feed stock. You will find strange treasures, but we stand by our product.
Get the biology back into your garden! From 5 gallons to 5 tons, delivered to your garden or farm. Use this to add organic matter, micro-nutrients, and biological life to your soil. We recommend 1-2″ top dressing each planting season, or 10-50% for new garden beds.
---
Sweet Almighty Screened Compost
BAGGED PRICE:
1 cubic foot bag = $25
Same as above, but screened. Our premium screened compost is made to order, sifted through a 1/2″ screen for a gorgeous crumb cake texture. Ideal for making a potting mix and wherever you need pure, refined compost.
---
Mulch: Basic Brown, Fancy Red, Pine Bark
Pine Straw, round bale: $24 (60-70 sq.ft. coverage, 2-3″ depth)
Pine Straw, square bale: $14 (30 sq.ft coverage, 2-3″ depth)
Basic Brown: $25/cu.yd (NOTE: supply low)
SPECIAL ORDER:
Red (dyed): $75/cu.yd (special order)
Pine Bark: $60/cu.yd (special order)
Dress up your garden & keep out the weeds. The Basic Brown is our super local, super basic mulch that comes from chipped tree branches in New Orleans; contains wood chips, twigs, shredded leaves, and pine needles. Best bang for your buck.

Pine straw produced by a local POC company that bales pine straw in S. Alabama.
Note: Red mulch and pine bark mulch are imported from outside New Orleans. We don't have these in stock, must special order.
---
Logs
Choose your logs from our site or get them delivered
Basic Logs: Free! pickup during open hours.
Larger orders of logs (10+) will be subject to a loading fee.
Create a garden bed using logs cut by arborists in New Orleans. You can also bury these logs inside your garden soil to absorb water and help nurture the soil microbes (look up "hugelkultur" for more info). We have a variety of sizes, shapes, and kinds to choose from. Save money on lumber and reuse a natural local material.
---
Rain Garden Mix, Sand & Custom Blends
River Sand: $15/cu.yd (deliver up to 4cu.yd per trip)
Rain Garden Blend (2:1 sand & compost): $60/cu.yd
Sugarcane Bagasse, Rice Hulls, & Custom Mixes: contact us!
Contact us with your custom soil needs. We can blend any recipe for rain gardens, potting mixes & custom landscape projects. We source all products from the local region.
---
Delivery or Pick-Up
— Product Pick-Up —
Check hours at top of page
We prefer to sell in bulk — we will load in your truck bed or containers. You must bring your own containers or truck with an open bed. If you are wondering how much soil your car or truck will hold, please read our volume guide before you make your order.

Scheduling your pickup offers you the convenience of ensuring we have what you need (we'll contact you to confirm). You can also pre-pay for your order via ACH, Venmo, or credit card.
— Dump Truck Delivery —
Dumped in a pile in your driveway, curbside, or accessible yard. Wheelbarrow service available.
$65 = Small delivery: qty 0.5-3 cu.yds. Distance up to 10mi. West Bank must use Large truck.
$95 = Large delivery: qty 4-10 cu.yds soil, 4-25 cu.yds mulch
Wheelbarrow Service, up to 2cu.yds = $40, then $20 for each additional cu.yd.
Delivery limits: We deliver from Hollygrove to locations in greater New Orleans. Delivery outside of the greater New Orleans area is available by special request for a higher delivery rate based on distance.
---
Yard Clippings & Material Pick-Up
30-gal Brown Bag pick-up:
up to 20 bags: $50 (each additional bag: $3/bag)
Roll-off Dumpster Service:
10 cu.yard roll-off dumpster: $325
15 cu.yard roll-off dumpster: $375