Schmelly's is an organics recycling company. We collect food scraps from New Orleans' restaurants, hotels, grocery stores, juice bars and coffee shops, and then compost these scraps into an organic amendment for farmers to enhance their soil microbiology. Our product is composted & cured for 8-12 months to create a nutrient-dense plant food good for flowers, vegetable gardens, and production farms.
---
HERE'S SOME THINGS TO KNOW:
PLEASE NOTE: As of July 1, 2020, we are not processing new orders until further notice, but you may still get your order on the waiting list by filling out the form here.
If you made a request before July 1, we will contact you about fulfilling your request as soon as we can. If you have questions about your request or to make changes, email is the best way to communicate with us: orders(at)schmellys.com
*
All our products, quantities, and prices are listed below. Please send us your request is through the request form on this website: to fill out the form, click the red order button on the bottom of this page.
*
Due to COVID-19 challenges, we are moving very slowly at processing order requests. We may not offer product services every week due to staffing limitations 🙁 We apologize for any inconvenience.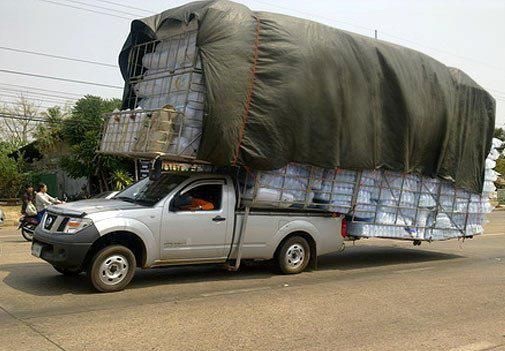 We wrote a very simple garden volume guide to help you figure out your soil needs. It includes a handy soil volume calculator & recommendations on how to carry your soil home.
Schmelly's Products:
ALL PRODUCTS ARE BULK. To reduce plastic waste, we do not use bags.
YOU MUST PROVIDE YOUR OWN CONTAINERS, OR USE A TRUCK. We will prepare the order before you arrive and will fill your containers when you get to our site. For open-bed picukup trucks, we'll load ya up with our machine. If you are wondering how much soil your car or truck will hold, read this.
Pick-up orders of 1/2 cu.yard (14 cu.feet) or more: we encourage you to bring a pickup truck so we can load with our machine. Bulk price for truck loads is cheaper because it takes much less labor.
Please check out our pricing & then use the request form at the bottom of the page to let us know what you need. *NOTE: pricing subject to change.
Acronym key: "cu.yd" means Cubic Yard, "cu.ft" means Cubic Foot. For more information on measurements, visit our volume guide.
---
Supernatural Garden Soil Mix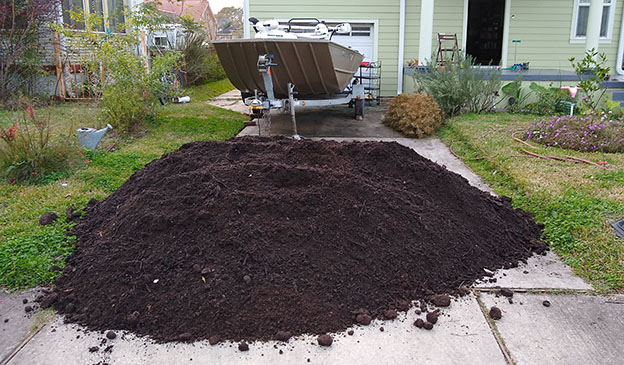 Cubic foot = $5
Small truck load (0.5 cu.yd / 14 cu.ft) = $50
1-4 cubic yards = $70 per cu.yd
5-10+ cubic yards = $60 per cu.yd
Use this to soil to fill up your vegetable raised beds, plant out a container garden, or bulk up your farm rows. We mix our homemade compost with a basic landscaping soil blend (composted manure, coffee grounds, pine shavings). Good for vegetable gardens, flower beds, and anywhere you need a high quality soil mix.
---
Unscreened Compost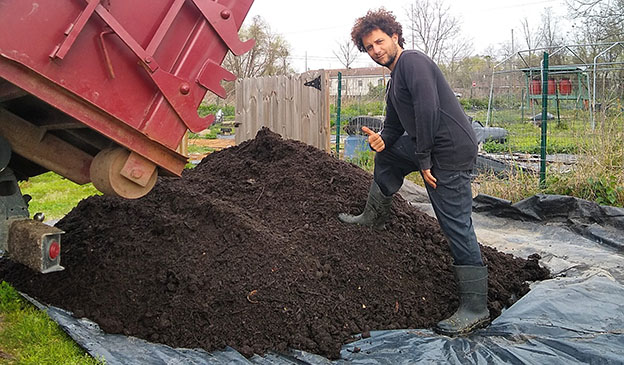 Cubic foot = $7.50
Small truck load (1/2 cu.yd/14cu.ft) = $50
1-4 cubic yards = $70 per cu.yd
5-10+ cubic yards = $60 per cu.yd
Get the biology back into your garden! From 5 gallons to 5 tons, delivered to your garden or farm. Use this to add organic matter, micro-nutrients, and biological life to your soil. We recommend 1-2″ top dressing each planting season, or 10-50% for new garden beds. (PLEASE NOTE, this compost has not been screened or sifted and contains composted wood chips, twig, bone material, and occasional straws, plastics & produce stickers from the food service industry where we source our compost feed stock.)
---
Premium Screened Compost
1-13 cubic feet = $20 per cubic foot
14-26 cubic feet = $18 per cubic foot
Our premium screened compost is made to order, sifted through a 1/2″ screen for a gorgeous crumb cake texture. Use this product for making a potting mix, or if your garden demands the best product available anywhere.
---
Wood mulch
$1 per cubic foot
$25 per cubic yard
SPECIALS:
Order soil or compost & request some free mulch!
Order 10 – 20 cu.yds mulch, get 50% off.
Dress up your garden & keep out the weeds. We've got a few different grades of wood & leaf mulch and pine needle mulch, fresh or aged. All local wood & pine needles from Greater New Orleans arborists. Holler at us below to check availability.
---
Logs
$1 per log (choose your logs from our site or get them delivered)
* If you order soil, compost or mulch, you can request a few free logs! *
Larger orders of logs may be subject to a loading fee.
Create a garden bed using logs cut by arborists in New Orleans. You can also bury these logs inside your garden soil to absorb water and help nurture the soil microbes (look up "hugelkultur" for more info). We have a variety of sizes, shapes, and kinds to choose from. Save money on lumber and reuse a natural local material.
---
Product Delivery or Pick-Up
Product Pickup is free during Spring & Fall planting seasons.
New Orleans pick-up service appointments can be scheduled on a limited basis. Our site is uptown near S. Carrollton & Earhart, and only available with an appointment. We sell in bulk–you must bring your own containers or an open bed truck. If you are wondering how much soil your car or truck will hold, please read volume guide before you make your order
.
–Dump Truck Delivery–
Dumped in a pile in your driveway or front yard
$50 = Small dump truck delivery (qty: 0.5-3 cu.yds) East bank only, under 10mi from S. Carrollton & Earhart
$90 = Large dump truck delivery (qty: 4-10 cu.yds)
$40 = Add-on Wheelbarrow Service (per 3cu.yds): put the soil right where you want it (Note: price is for up to 3cu.yds. Over 3cu.yds will increase price.)
.
–Bucket Delivery–
Delivered with buckets: we will dump the soil where you want it, but you don't get to keep the buckets 😉
$25 = 1-7 cu.ft
$50 = 8-14 cu.ft
.
We deliver to locations in greater New Orleans. Delivery outside of the greater New Orleans area is available by special request for a higher delivery rate based on distance.
---
After submitting your request, someone from the Schmelly's team will be in touch to discuss prices and payment details. After we finalize your order, we'll email you an invoice. We prefer online payment & accept ACH bank draft aka e-check, credit card (includes a fee), and good ole fashioned check.
Online payments should be made prior to delivery or pick-up.