How much soil do I need? (& will it fit in my Prius?)
1. Measure your garden bed:
2. Calculate the volume of your bed:
---
3. Will my soil fit in my vehicle?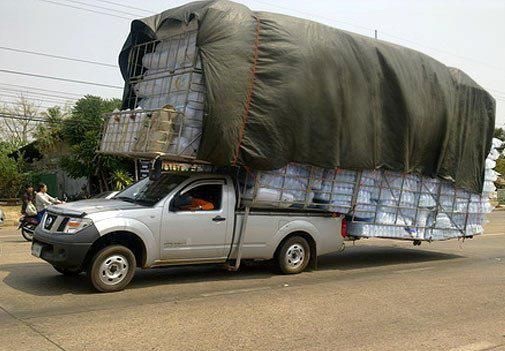 Vehicle volume guide:
CARS

FYI your car will probably only hold up to 10-13 cu.ft of soil max (unless you get really creative). We only sell in bulk so you will need to bring your own containers (or use our recycled bags) and determine your vehicles capacity.

SMALL TRUCK (Toyota Tacoma, Nissan Frontier, Ford Ranger, etc)

holds up to 1 cu.yd soil or compost, or 1.5-2 cu.yds mulch

LARGE TRUCK (F-150, Chevy Silverado, 6 or 8ft bed)

holds 1.5-2.5 cu.yds of soil or compost
Basic weights & volumes guide:
Weight of soil & compost (depending on moisture):

about 30-40 lbs per cu.ft
about 1,200-1,700 lbs per cu.yd

Weight of wood mulch:

about 500-800 lbs per cu.yard

Volumes of soil, compost, and mulch:

1 cu.ft = 7.5 gallons
13.5 cu.ft = 0.5 cu.yds (half a small truck load)
27 cu.ft = 1 cu.yd (small truck load)
---
4. Growing Resources
https://www.gardeners.com/how-to/soil-calculator/7558.html
Check out this article if you:
— have questions about how to build a garden bed
— want to learn about potting mixes & recipes
— need to find the volume of round containers

https://www.diynetwork.com/made-and-remade/learn-it/how-to-calculate-cubic-feet-and-cubic-yards
Gardening By the Numbers: How to Calculate Cubic Feet and Cubic Yards: What seems like simple math may not be so simple for some, but it's crucial when ordering soil, mulch or compost.