Schmelly's is an organics recycling company. We collect food scraps from New Orleans' restaurants, hotels, grocery stores, juice bars, and coffee shops, and compost these scraps into an organic amendment for farmers to enhance their soil microbiology. Our product is composted & cured for 8-12 months to create a nutrient-dense plant food good for flowers, vegetable gardens, and production farms.
HERE'S WHAT YOU NEED TO KNOW:
1.
Due to very high springtime pandemic demand of garden materials, we are overwhelmed with requests. It will likely take 1 week for us to call you back & schedule your order. We really really really thank you for your patience.
2.
Our COVID-19 work schedule, as of 4/1/20:
— Mon & Thu we review orders & make appointments for pickup & delivery.
— Tue & Fri 8am-1pm: appointment times for pickup & delivery.
3.
We really do appreciate your business and want to offer you the best locally-made garden soil & compost. The fastest way to get us your request is to submit by clicking the order button on the bottom of this page. If you haven't heard from us in a week, please email orders(at)schmellys(dot)com
Our Products:
ALL PRODUCTS ARE BULK. To reduce plastic waste, we do not use bags
FOR SMALL ORDERS (pick-up or delivery), YOU MUST PROVIDE YOUR OWN CONTAINERS
Pick-up orders of 1/2 cu.yard or more, we encourage you to use a truck.
Please check out our pricing & then use the request form at the bottom of the page to let us know what you need. *NOTE: pricing subject to change.
Supernatural Garden Soil mix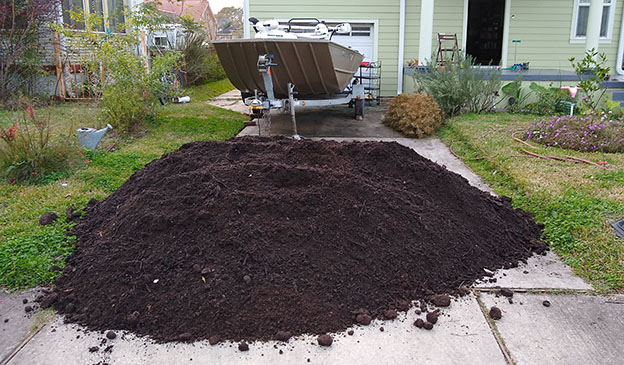 $5 per cubic foot
$50 small truck load (0.5 cu.yd / 14 cu.ft)
$70 per cu.yard (1-4cu.yds)
$60 per cu.yard (5-10+cu.yds) bulk
Use this to soil to fill up your vegetable raised beds, plant out a container garden, or bulk up your farm rows. We mix our homemade compost with a basic landscaping soil blend (composted manure, coffee grounds, pine shavings). Good for vegetable gardens, flower beds, and anywhere you need a high quality soil mix.
Unscreened Compost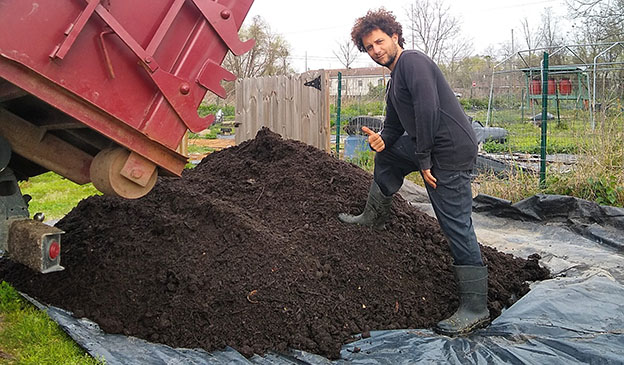 $7.50 per cubic foot
$50 small truck load (1/2 cu.yd/14cu.ft)
$70 per cu.yd (1-4cu.yds)
$60 per cu.yd (5-10+cu.yds) bulk
Get the biology back into your garden! From 5 gallons to 5 tons, delivered to your garden or farm. Use this to add organic matter, micro-nutrients, and biological life to your soil. We recommend 1-2″ top dressing each planting season, or 10-50% for new garden beds. (FYI this compost has not been screened or sifted and contains composted wood chips, bone material, and occasional straws & produce stickers from the restaurant industry.)
Wood mulch
$1 per cubic foot
$25 per cubic yard
For delivery, orders 10 cu.yds or more get 20% off
Dress up your garden & keep out the weeds. We've got a few different grades of wood & leaf mulch and pine needle mulch, fresh or aged. All local wood & pine needles from Greater New Orleans arborists. Holler at us below to check availability.
Logs
$1 per log (choose your logs from our site or get them delivered)
Order minimum 1 cu.yd of soil or compost and get free logs!
Create a garden bed using logs cut by arborists in New Orleans. You can also bury these logs inside your garden soil to absorb water and help nurture the soil microbes (look up "hugelkultur" for more info). We have a variety of sizes, shapes, and kinds to choose from. Save money on lumber and reuse a natural local material.
Delivery or Pick-Up
$90 – Dump truck delivery to locations in Greater New Orleans, dumped in your driveway or yard
$40 – Wheelbarrow Service to put the soil right where you want it
– – – – – – –
$10-50 – Small bulk orders (less than 14cu.ft) can be delivered for a reduced rate and
Pick-up service in New Orleans is currently offered only Tuesdays & Fridays. Please do the research on how much weight & volume your vehicle can hold. We aren't responsible for your transportation.
After submitting your request, someone from the Schmelly's team will be in touch to discuss costs and payment details (we accept ACH bank draft aka e-check, credit card, and check). We will send you an online invoice to your email address.
Payments should be made prior to delivery or pick-up.